Voltero PS24 / S370 2200WH bundle
Never get stuck at home or in the office again. Create your own mobile office in the camp, in nature or by the sea. Now you can decide for yourself how, when and where you want to play or work with your notebook, tablet and phone without running out of power. The battery capacity is 2.232Wh with LiFePo4 built in battery with +3.500 life cycles
Voltero Smart Powering
Voltero stands for quality and our products are the best proof of it.
Voltero PS24 power station
More mobility
Never get stuck at home or in the office again. Create your own mobile office in the camp, in nature or by the sea. Now you can decide for yourself how, when and where you want to play or work with your notebook, tablet and phone without running out of power. The battery capacity is 2.232Wh with LiFePo4 built in battery with +3.500 life cycles.
Smart charging
The Voltero PS24 solar battery generator has three ways to recharge: the wall outlet, car charging and solar panel.

Voltero PS24 solar generator can charge all USB-C devices. In the package there is no USB C cable included. You can buy additionally our Voltero C1 (1 meter length) and C2 (2 meter length) PD3.0 100W 10Gbps data cable.

Voltero PS24 has 4 charging ports, namely 2 x Anderson max 500W per port (12-45V) and 2 x DC7909 max 240W per port (12-45V).

But, max charging power is limited to 1.000W.

So you can connect 2 x 600W solar panels with 40V to each of Anderson ports. The unit will be charged with 1.000W and 200W will be wasted, but it will not harm the unit

Or you can connect 2 x grid chargers (200W) to 2 x DC7909 ports and 1 x 600W panel to 1 x Anderson port, to have again 1.000W charging power

Or connect 2 x 370W panels to 2 x Anderson ports and 2 x grid chargers to 2 x DC7909 ports to have again 1.000W charging power.

Or connect 4 x 370W panel to 2 x Anderson port and 2 x DC7909 ports to have 1.000W charging power.
Mobile powerhouse
Get used to being able to work at full speed anywhere as this powerhouse is fully up to date with the latest technologies. The Voltero PS24 solar generator is equipped with newest LiFePo4 batteries. It has also a 2.400W pure sine inverter with 5.000W surge power. Voltero PS24 also offer 2 x USB-C PD2.0 PPS power output ports 1 x max 60W (left) + 1 x max 60W (right) and 4 x USB A port with max 18W. But that is not all. PS24 has alo 3 x 12V ports. 2 ports are DC 5.5 x 2.1mm with 12V 10A. There is also a cigarette lighter port available. So total output on all 3 12V ports is 120W. You can connect 3 devices with each 40W or 1 with 120W.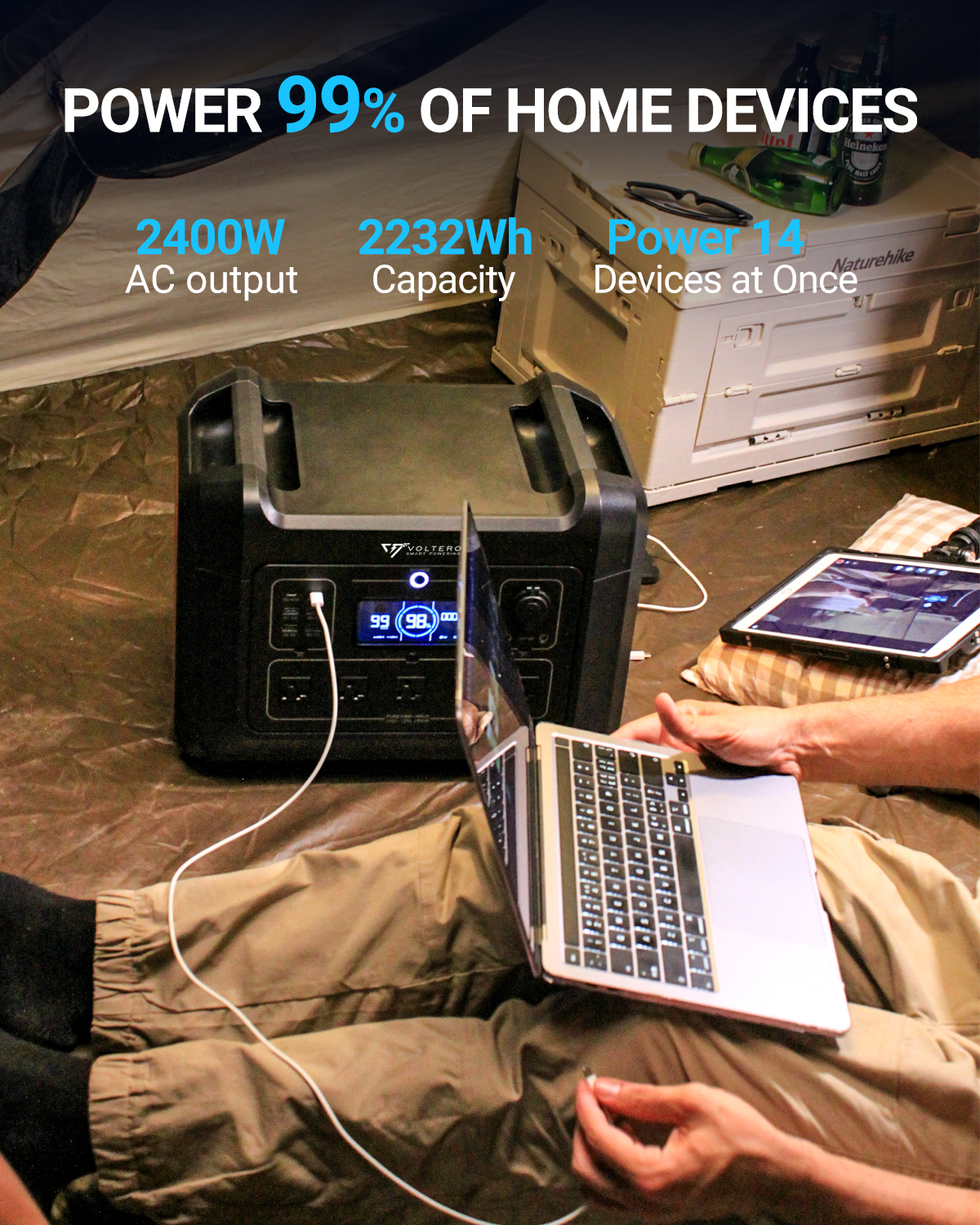 Smart display
The electric generator large color LED display provides a real-time battery power monitoring system to help you keep track of the power level status. including remaining cell capacity, current input and output, battery status while charging and accurately displaying the remaining working time of the Voltero PS6 station during work (accurate to the minute)
Solar charging is supported
Voltero PS24 can also be charged with our solar panels like Voltero S110, Voltero S220, Voltero S370 and Voltero S420.

All combinations are possible.

Best to use is minimal 2 x S370 or 2 x S420. but you can connect also 4 x S370 or 4 x S420.
What is in the box?
- PS24 2.232Wh solar generator
- 2 x 200W grid charger
- 12V cigarette charger cable
- 2 x MC4 to DC7909 solar cable
- 2 x MC4 to Anderson cable
- 2x Solar panels

NOT INCLUDED
- USB-C charger. You can use your own charger or purchase our C65 or C100
Voltero S370 foldable solar panel


Voltero S370 Solar Panel is foldable, powerful, lightweight and flexible. The S370 Panel has a power output of 370 watts and is made of semi-flexible plastic with SunPower cells. These are much better and more efficient than Mono cells. The S370 panel is splash water-proof and can be used in almost any situation..
USB PD 60W
- Voltero S370 is an unique panel equipped with UCB C connection so you can use it autonomously and charge any USB C device like MacBook. Nintendo DS etc

Voltage 36V
- Voltero S370 has voltage of 36V. It is suitable to charge almost all solar generators available now on the market
Light weight
- Voltero S370 weighs only 12,0kg. Folded dimensions are 860x620x30mm. Unfolded dimensions are 2309x860x15mm

SunPower cells
- SunPower 161 cells with 24% efficiency. Parallel connection of cells shading has less influence on output
Suitable for all Voltero solar generators
Voltero S370 solar panel can be used to charge following Voltero generators: Voltero PS18 and PS24

Suitable for all Voltero power banks
Voltero S370 solar panel can also be used to charge our S25 and S50 power banks. Due to unique built-in USB C PD connection you can use this to charge our S25 and S50 "solar" power banks
Product Comments
No customer reviews for the moment.