12 x Canadian 400W solar panels full black + 12 x Enphase IQ8 + installation
- 12 x Canadian solar panel HiKu CS6R-400MS mono full black 25 years warranty
- 12 x Enphase micro inverter IQ8MIQ
- Installation material
- Installation
- Please contact us for a free scan and a price offer
Canadian Solar was founded in 2001 in Canada and is one of the world's largest and most important solar energy companies. This leading manufacturer of photovoltaic modules has won numerous awards and invests significantly in R&D, evident in its record-breaking cell efficiency and thousands of global patents.
Over the past 21 years, Canadian Solar has successfully delivered over 67 GW of premium quality modules to customers in more than 160 countries worldwide. The current production includes 17 factories with a total capacity of 16 GW.
Why Canadian Solar?
Benefits of Canadian Solar panels:
1. Excellent price-quality promise: Canadian Solar is known for its outstanding price-quality promise, ensuring a balance between affordability and high-quality solar panels.
2. Company values: Canadian Solar makes governance decisions that align with their social norms and values while maintaining a focus on the environment. Their goal is long-term sustainability in all areas.
3. Global presence: The company operates in over 24 different countries across 6 continents, with over 9,000 employees driving its operations.
4. Multiple certifications: Canadian Solar holds various certifications, including ISO 17025, a unique accreditation awarded to the company's testing laboratory. This certification illustrates the firm's quality and competence.
5. Internal quality testing: Canadian Solar has full control over the production process of its technologies. This enables the company to closely monitor the quality of its solar panels, home batteries, and inverters.
6. Insured products: All Canadian Solar products are insured, making them unique in the solar panel industry. This ensures that all warranties are covered if the company is unable to meet its financial obligations.
7. Advanced technology: Canadian Solar panels are known to perform exceptionally well in extreme environments, such as mountainous or coastal installations. Many of their panels feature cell stress relieve technology, ensuring reliable operation even during heatwaves.
Why do we match Canadian solar panels with micro inverters from Enphase?
Very simple reason. In this composition we can offer both system with unprecedented warranty period of 25 years. Both manufactures offer a warranty of 25 years and this makes it an unbeatable combination at the moment.
When we add the energy storage system 10T from Enpahse, then we have market leading solution. Contact us for more information.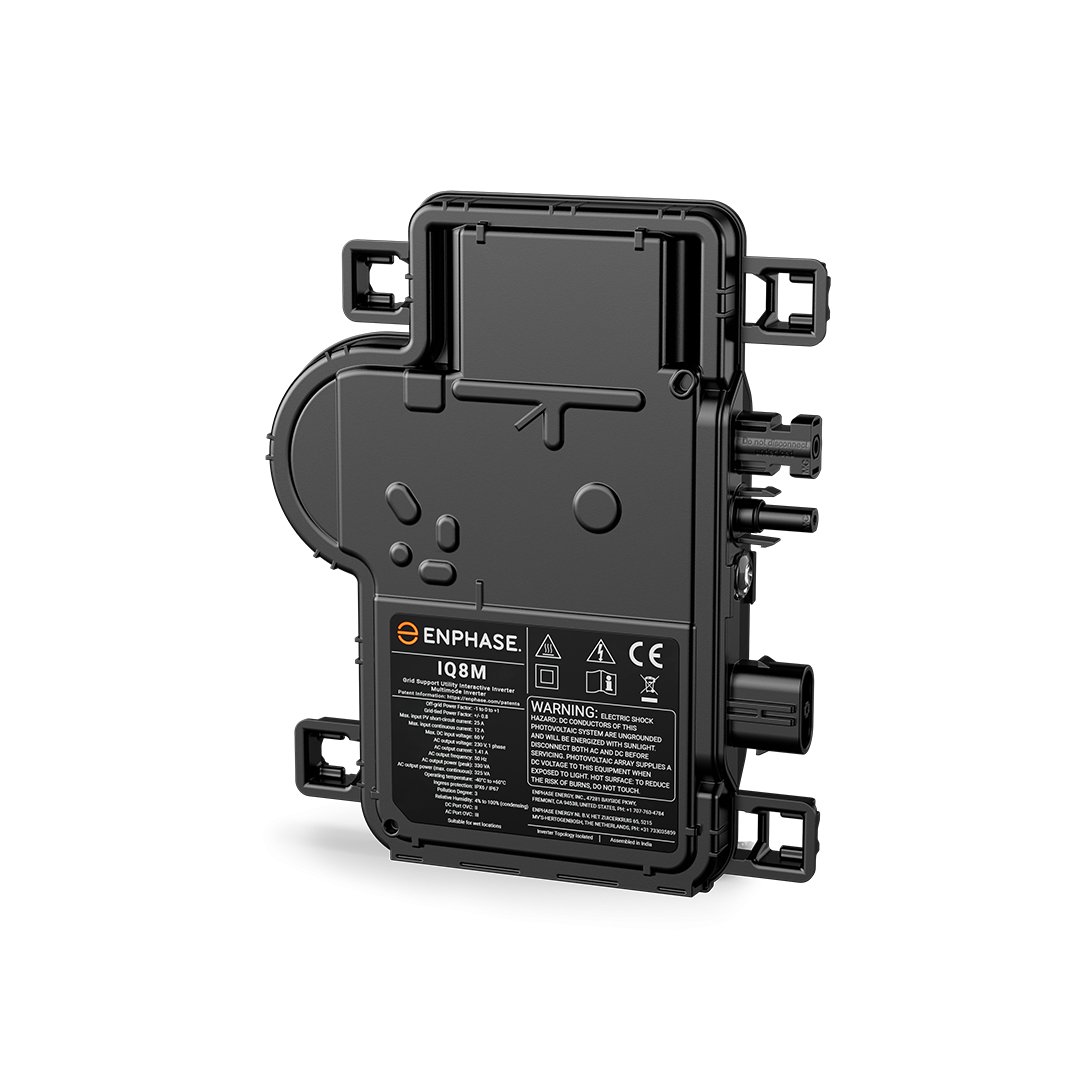 Why micro inverters?
1. Supports a wide range of solar panels on the market: One notable feature of the IQ8 is its ability to work with higher input currents, allowing for longer strings and fewer switchboards. This makes the micro-inverter compatible with the latest solar panels featuring larger wafer cells, resulting in cost savings and a simplified installation process.
2. Advanced monitoring and control capabilities: The IQ8+ includes Enphase's new Ensemble Technology, which offers advanced monitoring and control capabilities, providing real-time insights into system performance. This enables installers and homeowners to quickly identify and resolve issues, as well as make more accurate predictions of energy production and consumption. An updated version 3.27.0 or higher of the Installer app is required for IQ8 commissioning.
3. Higher efficiency: Another key feature of the IQ8+ is its high conversion efficiency of up to 97.1%. This means that the IQ8+ can convert more solar energy into usable electricity, resulting in higher energy yield for solar panels.
4. Compatible with Enphase Encharge battery storage system: Enphase IQ8+ also supports grid-interactive and battery-ready solutions. It is compatible with Enphase's Encharge battery storage systems, allowing homeowners to store excess energy generated by their solar system for later use. Installers need to be certified to install Enphase Encharge battery storage systems. More information on Enphase training is available.
5. Safety: The Enphase IQ8+ micro-inverter is designed with safety in mind. It has undergone extensive testing and complies with safety standards. However, it is important to note that the Enphase IQ8+ cannot be used interchangeably with micro-inverters from the IQ6 & IQ7 series.
Overall, the Enphase IQ8+ is a powerful and versatile micro-inverter system that offers a wide range of features and benefits for solar energy systems. With its high conversion efficiency, advanced monitoring and control capabilities, and compatibility with battery storage systems, the IQ8+ is an excellent choice for homeowners and installers looking to enhance the performance and efficiency of their solar panels.
Enphase IQ8M
Enphase micro-inverters operate independently from each other, maximizing the efficiency of each individual solar panel. With this system, you no longer need a large central inverter. In the event of a malfunction, you will immediately identify and address the issue with only that specific micro-inverter or panel, rather than the entire installation.
Enphase Envoy
The "brain" of this solar energy system is the Enphase Envoy. It continuously communicates with and monitors each micro-inverter in the system. The Envoy automatically installs software updates on your micro-inverters, so you don't have to worry about it. Even maintenance and management can be done remotely with this system.
Enphase Enlighten app
By continuously collecting data from each panel and your energy consumption, the Enphase Enlighten app with Envoy-S Metered provides you with a comprehensive view of the status and production of each panel, your energy usage, and tips on how to reduce your energy consumption. If there is a panel malfunction, you will immediately be notified, and we will resolve the issue on the same day.
Encharge energy storage
To complete the Enphase system, you can expand it with the modular Enphase batteries. This allows you to store the excess energy generated during the day but not used, so you can utilize it in the evening and morning when the panels are not producing electricity. If you want to store more energy in the future, you can simply add new batteries to the system.
Expandable
An unique advantage of Enphase is its system expandability. You can gradually expand the number of solar panels, inverters, or batteries in your system over the years. In a central inverter system, the inverter is sized for the total power capacity, whereas with Enphase, each micro-inverter operates independently, allowing for flexibility in system expansion.
Reliability
Enphase is a market leader in terms of reliability. The system has proven to be the least prone to malfunctions in the market. The micro-inverters are IP67 certified, double-insulated, and corrosion-resistant. As a result, you have a 25-year warranty on the inverters.
Solar panel battery storage
There is a lot happening regarding energy consumption and the net metering scheme. Until 2025, you can still fully benefit from the net metering scheme. Starting from 2025, the net metering scheme is expected to be gradually phased out.
A comprehensive explanation of net metering can be found in a clear article by the Consumers' Association. In summary, net metering involves deducting the energy supplied from the energy received.
Newly introduced is that some energy suppliers have changed the feed-in tariff since September 2022. The feed-in tariff applies when you generate more electricity than you consume. Whereas previously this was the regular electricity rate (around 56 cents per kWh), it has been reduced to 9 euro cents per kWh by companies such as Essent, Oxxio, and Eneco.
Energy storage becomes more interesting
Storage technology has become more affordable and has undergone significant advancements. With extremely high energy prices, storing and using your own energy becomes more appealing with each passing day. Voltero Eindhoven can expand your new and existing installation with advanced battery technologies. In addition to the aforementioned Enphase system, you can also opt for the Solar Edge Storedge system with a Solar Edge installation.
If you want to add a battery system to an existing installation, please contact us for the possibilities. For new systems, we can include this in the quotation request.
Product Comments
No customer reviews for the moment.